In the past few weeks I've convinced myself that GraphQL can work well for any micro-service. This post is a full walk-through of getting a working GraphQL API on Ruby on Rails. This should help you get started, especially if you've never written a line of GraphQL in your life. The code for this post is dblock/graphql-invoices.
Prerequisites
Make a bare Rails API app with rails new --api, get RSpec and RuboCop. See @c26b0e18.
GraphQL
Add gem 'graphql' to the project.
This is the graphql-ruby library, an implementation of GraphQL in Ruby and is what is used for building a GraphQL endpoint on the server. See @7649ba2b.
Defining Schema
This project will implement a dummy invoice API where clients can get invoices and create invoices.
The invoice type has an ID and some fees in cents and goes into app/graphql/types/invoice.rb.
The GraphQL ID type is a string, so we use Int.
GraphQL defines a schema with queries (eg. get invoices) and mutations (eg. create an invoice), which typically goes into app/graphql/schema.rb.
The query root returns an invoice by ID, implemented in app/graphql/queries.rb. Notice that this takes an Int (ID) and returns our InvoiceType.
A mutation creates invoices in app/graphql/mutations/create_invoice_mutation.rb. Use Relay, a data fetching framework, that makes it easy.
This mutation was referenced from the root schema above and is linked from app/graphql/mutations.rb.
GraphQL Controller
GraphQL accepts a single JSON payload via POST in a typical Rails controller in app/controllers/graphql_controller.rb.
The controlled needs to be routed to in config/routes.rb.
GraphQL IDEs
The best way to try our app out is to use a GraphQL IDE. Run the Rails application with rails s and point the IDE to https://localhost:3000/graphql.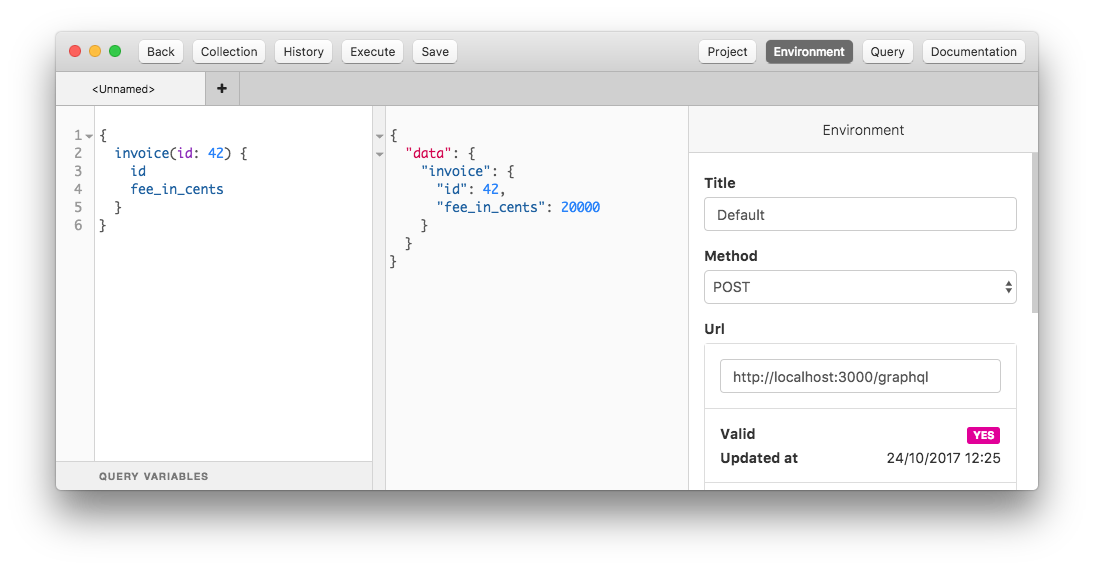 You can use various clients to consume the API from our applications, including graphlient or graphql-client.
Tests
Add graphlient, which is a small library built on top of graphql-client and that's a bit easier to use.
Define a shared client context in spec/support/graphql/client.rb.
The client can fetch the schema in spec/graphql/schema_spec.rb.
Fetch an invoice in spec/graphql/queries/invoice_query_spec.rb.
Create an invoice in spec/graphql/mutations/create_invoice_mutation_spec.rb.
Tooling
GraphQL comes with some impressive tooling and IDE integration, such as with Visual Studio Code via graphql-for-vscode.
Add a Rake task to dump the project's schema to lib/tasks/graphql/schema.rake.
Add a configuration file, .gqlconfig
Install prerequisites for graphql-for-vscode.
Install graphql-for-vscode from the Visual Studio Code Marketplace, here.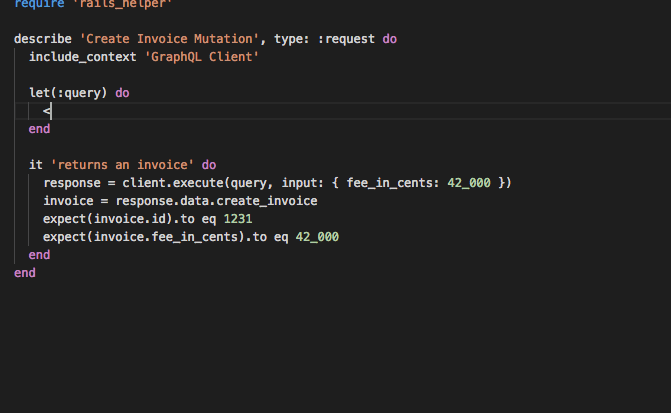 Generating and Handling Errors
Read Generating and Handling Errors in GraphQL in Ruby next.